Went to the exhibition "Caravaggio to Dali" at the Kimbell Art Museum in Fort Worth this weekend. It showcased 100 Masterpieces from the collection of Wadsworth Atheneum Museum of Art in Hartford, Connecticut, which is internationally renowned for its quality, rarity, and beauty. Ranging from the Renaissance to the mid-20th century, the exhibition features major works by Caravaggio, Zurbaran, Hals, Goya, Monet, Cezanne, Picasso, Dali, and many other outstanding figures.
(Interesting note: while the Kimbell Art Museum is among the youngest of the great American art museums, the Wadsworth Atheneum is the oldest.)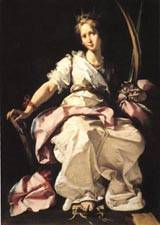 One of the most important paintings of the Baroque period is Bernardo Strozzi's Saint Catherine of Alexandria. Born into a noble, possibly into a royal family, St. Catherine was a beautiful, learned, and wise maiden who converted to Christianity after receiving a vision. When she was 18 years old, during the persecution of Roman emperor Maximus (or Maxentius), she offered to debate the pagan philosophers. Many were converted by her arguments, and immediately burned. She even converted the empress and many soldiers, all of whom were martyred as well.
The emperor then ordered her strapped to a spiked wheel in the hope that the physical pain would break her spirit, but she touched it and the wheel was destroyed. (In the painting, the saint treads on the broken wheel.) She was finally beheaded in Alexandria, Egypt, whereupon milk, rather than blood, flowed from her severed head. Her body was whisked away by angels, and she was later reported as one of the divine advisors to Saint Joan of Arc. In the painting, she holds a palm leave in her left hand, which is another symbol of martyrdom.
When Bruce and I saw this painting, we were both reminded of Gloria. Maybe it was her look and expression, maybe it was her fighting spirit... well, martyrdom or not, we hope Gloria has a much happier ending than St. Catherine!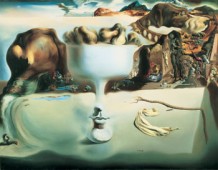 I'm not a big fan of surrealism art, but Salvador Dali's Apparition of a Face and Fruit Dish on a Beach sure created an impression. It's like an optical illusion, you're not seeing what you think you're seeing, or that what appears to be in one POV (point of view) turns out to be something totally different and unrelated in another POV. Yes, there are many works like this, by Dali and others, but I guess the face was kinda haunting and therefore etched in my mind. Well if I viewed it as a fruit dish first, it might not have the same effect I suppose. But it was worth the 2-hour drive to and from Fort Worth just to see this painting up close, as well as standing a few feet away from it. Different perspectives, different observations, different conclusions, different feelings.
Getting to know this painting is also like getting to know a person. There are some main elements in the piece of work, like the dog, the face, the beach, and the fruit dish. Similarly, a person can be a spouse, a parent, a friend, an employee etc. Upon first glance we usually see one or two sides/views. Only when we spend time and attention might we discover the rest of the elements. However, even at this point, it is only superficial, surface knowledge. There are so much more intricate details in the painting that you can't see from an online jpeg or perhaps a reproduced poster. But even when I have all the details memorized, I would only know the painting from my own interpretation. If I talk to another person about the painting, I would probably learn a whole lot more that I didn't realise. And so on...
cybette wrote this at 02:20 AM ...
Comments (1)